Make the most of the online moment and
seize the opportunity for direct contact!
More and more consumers look for information and make their buying decisions online. Acquire more customers with a relevant instant service.
It's a fact! 1/3 of online interested customers desire a direct consultation over the telephone to help influence their purchasing decision.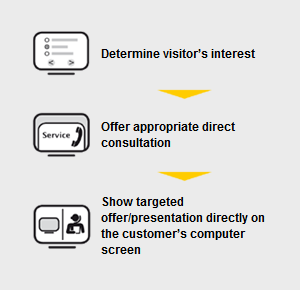 Establish direct contact with one click and without a required opt-in
Dialog Generator allows easy direct contact—the customer calls you directly or provides their telephone number online. The consultant or call agent starts the appropriate monitor presentation immediately. No software downloads or additional logins are necessary!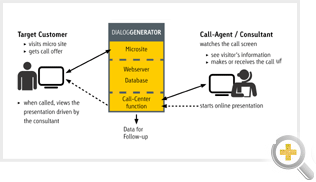 Start selling when the customer is online and most receptive to a relevant service or product
Customer interest is determined by click analysis or request. This allows the system to display the appropriate service offer. The high relevancy of the offer promotes acceptance—on average, 1/3 of interested customers react favorably to an appropriate call offer.
Perfect interactive service with online presentation
The live presentation viewed on the customer's screen allows better engagement. Products and services can be demonstrated and complex solutions easily explained. It's the perfect way to captivate customers and maximize sales opportunities.
Just-in-Time Telemarketing
With DialogGenerator, you always have perfect timing and capitalize on the optimal calling moment. Just as the customer looks for information online and shows interest, you offer the most relevant product or service, and profit from the highest marketing efficiency.
100% More Conversion with Post-Click Marketing
Online advertising tests are important, but remember, optimizing the conversion rate increases sales and efficiency. Post-Click Marketing is decisive and results-oriented. DialogGenerator generates a Landing Page with a relevant direct contact offer. The result? Much better conversion rates.