Convert visitors into customers with an appropriate service offer and live presentation
An active offer dialog delivers the service the prospect expects. Remember, the first impression is important and defines the customer's perception and expectations. A first contact over the telephone improves conversion and helps increase customer lifespan.
A) Consultation button
     on the website
This triggers the service and allows customer the choice of a relevant offer. On receiving the call, the call agent starts the appropriate presentation automatically.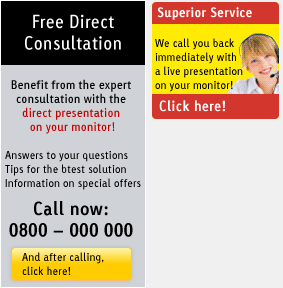 B) Targeted Service Offer
Based on click behavior, an invitation page is generated and embedded. Customer receives a choice of topics offering relevant benefits, which increases acceptance. Upon receiving the call, the interest-appropriate presentation starts automatically.

C) Reduce Shopping Dropout Rate
When placed at a critical stage during the order process, an appropriate service offer or advice relative to the product category can dramatically improve shopper retention and reduce dropout.